Welcome to Badrock 2023.
All makes of "vintage"* - twin shock, air cooled, drum brake - bikes welcome!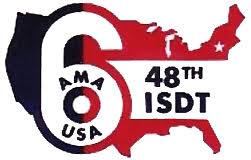 Celebrating the 50th anniversary of the first ISDT held in the US - Dalton. MA, 1973.
This is your chance to ride through some of the back country and actual trails used during the famous Bad Rock ISDT qualifiers of the 1970's. This is where Hodaka motorcycles were designed, developed and put to the ultimate test.
The event takes off from the historic town of Weston Oregon, approximately four miles east of Athena.
It's about a 50-mile course, designed to be an easy ride for someone who has not been riding regularly or who wants to protect their investment in some of those hard to find Hodaka parts. The club will provide a trailer at several points along the route to transport bikes with mechanical problems or bikes from riders who, for whatever reason, just don't wish to finish the course.
The course does include several sections where the route uses county roads. Special arrangements have been made with the local authorities to allow trail bikes to use these sections during the event. Other than county roads, all the off road sections are on private property and will not require an ORV permit. However, all bike must be equipped with a working silencer and spark arrestor.
This event is an AMA sanctioned recreational event. You do not need to be an AMA member to participate. However, without the help of the AMA, we could not afford to put on events like this and we encourage you to consider joining. Their web site is www.americanmotorcyclist.com.
You must pre-register. This ride is limited to 150 entries and will be open to all makes of vintage (twin shock, drum brakes, air cooled) bikes.
If you have questions about the event, please send an email to info@hodakadays.org.