Join the AMA Chartered
Hodaka Club
Important information concerning AMA waivers.  Waivers for minors must be signed by both parents (if applicable).   If you need a waiver for a minor and both parents (with legal custody) will not be in attendance, send an email to the webmaster and we will get you the paperwork to sign and have notarized.  The waivers must be notarized to be valid if the signatures cannot be witnessed at the event!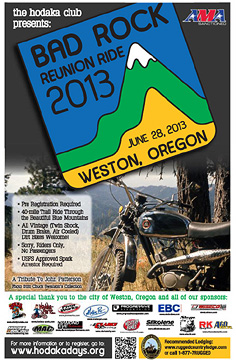 EVENT
SCHEDULE
Please check the bulletin board
at the registration desk daily for schedule changes.
for 2013 TBA

Vendor booths and swap meet

Seminars

Hodaka parade

Bike show



Vintage trials

Awards Banquet and BBQ



Vintage MX
Movie night returns!
Once again we are fortunate to welcome
director Peter Starr to Hodaka Days. Movie night this year will feature Peter's award winning moto-sport film
"Take it to the Limit"

Saturday night, June 29th

Long Branch Saloon, Weston Oregon Sorry, because of the venue, no minors

Follow the adventures of a dedicated Hodaka fan
riding from PA to Athena, OR
for Hodaka Days 2011!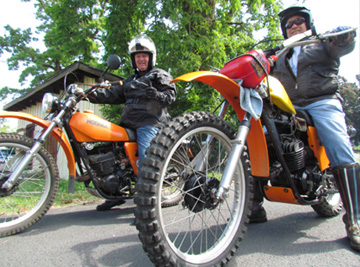 a look back at the Bad Rock in 2011
Peter Starr Article Ode to Hodaka

Umatilla County TT and Poker Run
(New rule this year: For all vintage bikes up to 250CC, not just Hodakas)



Parts and accessories auction
Hodaka Days Photo Spreads


Bad Rock 2011

Hodaka Days 2010